Want us to build for you? K&H, LLC has already started to build a 3 bedroom, 2-1/2 bath home with great room on lot 4. Nestled in old growth forest and surrounded by Chugach National Forest, your private home is on a 3-acre wooded parcel. Water, electricity, cable TV, high speed internet and cable TV are installed, even the septic system. You won't be required to apply for any construction permits or have studies made, you'll just move in and enjoy!
The indoor-outdoor life the home affords will be great! Smell the forest, hear the stream, and the birds from your deck just outside the great room windows, or have a family barbeque outside on the deck. You'll be secluded in the wilderness, but with neighbors close by and always willing to lend a hand. You will be only 3 miles from all the amenities of Cordova. Ride your bike, or take a walk along the roads of Alpine Properties; the outdoor life is there.
Shell or finished interior? It's your call; want turn-key operation? We'll finish your new home to your own specifications and right down to the plates and towels if you wish. Pick your colors and appliances. Or, are you a handyman? Want only the finished exterior so you can complete the interior at your leisure? Call and let us know what your family would like, and we'll make it happen. Let us know your preference and we will build your new home to suit your tastes.
Want a different lot? We can build on any of our lots you choose. All of the 3-acre parcels have stunning views of Lake Eyak and the mountains. Bring us your own floor plan or use one of ours, your custom home will be just that! Custom designed for you! Using the latest high-tech building materials, and taking care of construction details, we will provide you with a luxurious private home in the center of fishing and hunting paradise.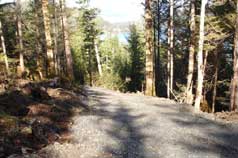 Lot 4 Custom Home Drive Each parcel has a driveway and house pad laid out for maximum view and privacy. The curving driveway leads to a site with a beautiful view of Lake Eyak and Eyak Mountain. Note Lake Eyak in the upper center of photo.
Creek south & west A beautiful babbling creek runs behind the house, joins another, and runs down the side of the home site. The water noises blend with the forest sounds to provide a peaceful, relaxing sound you can enjoy from the deck.